Доставка цветов, букетов и подарков в Тольятти
Send flowers to Togliatti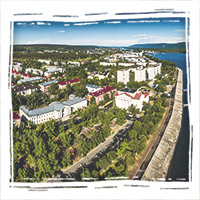 The company's website Grand-Flora you can choose colors for every occasion and for every taste. In our Internet–store features dozens of bouquets, compiled with love experienced florists. In addition to an impressive range of colors and flowers, you can choose a basket or a gift, add to the colors of the balls or greeting card with warm words.
When making an order, our managers will help you make the right choice, and couriers in time to fulfill delivery of flowers. Togliatti, or any other city in Russia—it does not matter. Thanks to the Internet the distance and time differences do not play a role any more. Whatever the celebration is not scheduled your loved one: a birthday, wedding, anniversary, no matter how far you are from it are, our online store will allow you to get a little closer and deliver flowers in Tolyatti loved one.
Flowers and bouquets from the salon"Grand Flora"
Order free shipping bouquet in any area of ​​the city of Togliatti.

We deliver to order fresh flowers, gifts and

bouquets with 50% discount.

Perform Flowers delivery to the addressee in Togliatti and

in another city in Russia

at any time of the day or night

.

The client can get a bunch already 3 hours after the order through the Internet.

You can pay in cash to the courier, make transfer from the monetary system, and make a payment by credit card or electronic money.

Send flowers to Togliatti inexpensive
Where to buy flowers in Tolyatti?
delivery service of flowers and gifts«Grand Flora»
Address:

g. Togliatti, Peace Street, 113A

Working hours:

 from 8 to 21 hours
additional contacts
Phone:

8 (800) 333 01 95

Vayber:

8 (968) 278 01 91

Mail:

tolyatti@grand-flora.ru
Delivery to any city in Russia
Start typing the name of the city, and we'll show you
International Flower Delivery
We did not find the required location                     
Call us at
8 (800) 333-01-95
 and we will help you.
Our best stocks